The Tinghöj Battery was constructed during the years 1887-88.
The Battery was supposed to protect the areas between the Gladsaxe, Bagsværd and Lyngby Forts, and the north-westwrn part of the Western Enceinte. The Battery also was supposed to protect the area behind the three forts.  

The Tinghöj Battery had a dry moat and two battery lines. One at each side of the casemat building
The southern line with six 15 cm. guns and the northern line with three 12 cm. guns.
The casemate building containes the crew and the ammunition storage.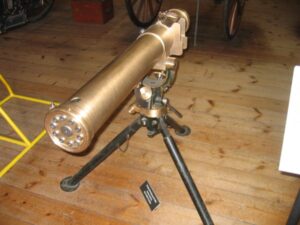 On top of the Battery, there were two turrets,  each with a 8 mm. mitrailleuse with ten barrels to defend the battery itself. On top of the the northern part, there was an observation post.
The crew consisted of 3 officers, 13 sergents and 100 privates..
The battery was decomissioned 1920.

The Battery is at the time private property and is normally not accessable.
The outer part
The interior